My encounters with three women teachers at the European Institute for Applied Buddhism in Germany (and other happy news)
Shelley Anderson. Her shirt declared her belief in a better South. Her story, woven across cultures and conflicts, touched me deeply. Originally from the United States, Shelley moved to the Netherlands and committed her adult life to empowering women towards peace.
In 1997, Shelley initiated the Women's Peacemakers Program within a larger peace organization, the International Fellowship for Reconciliation. Across decades, she brought together groups of women on different sides of conflict for exchange and training in non-violent conflict resolution. Women from Azerbaijan and Armenia, Israel and Palestine, Cyprus, Bosnia, Northern Ireland, and many other countries came together under Shelley's simple premise: that women are the foundation for peacemaking.
At one such workshop, a Palestinian woman onstage listed atrocities of the Israeli army. An Israeli woman sat next to her, listening and preparing to speak. What came next surprised Shelley: instead of defending Israel, the woman agreed with the Palestinian, even adding another "atrocity" that the Palestinian woman had excluded.
It was a moment Shelley says she will never forget. The Israeli woman, her country demonized by the Palestinian's narrative, did not arrive at anger or defensiveness. Instead, she publicly accepted responsibility for the conflict and cleared space for reconciliation and healing. Meeting "the enemy" face to face allowed barriers to break down and the heart to burst open in love.
We remarked on the importance of bringing together women of different conflicts to see each other: that cross-cultural interaction helps women to realize that theirs is not the only conflict region. Israelis and Palestinians need to meet Indians and Pakistanis, Catholics and Protestants from Northern Ireland, Greeks and Turks from Cyprus. We need to know that we are not alone.
Dung Vo. Quiet and incredibly kind, she shared her story in the final hours of the first retreat. Originally from Vietnam and currently residing in Canada, Dung came of age during the Vietnam-American War. After completing high school, she wanted to study social work and education. Her father sent her to study in the United States instead. After one year in the states, she returned to her homeland to find American GIs occupying the territory.
She joined Thich Nhat Hanh's School of Youth for Social Service, traversing the country while studying and engaging in social work. She was imprisoned multiple times during this period, and at odds with her parents who simply wanted her to settle down.
Dung eventually immigrated to Canada, got married, and had two daughters -- one of which is in Africa working in nursing. She regularly returns to Vietnam to serve children on the autism scale.
Shelagh Shalev. One of my dharma teacher mentors from Jerusalem, Shelagh and her husband Baruch are pioneers of the non-violent peace movement in Jerusalem. Shelagh grew up in the aftermath of the conflict in Ireland, with the British occupation a not-so-distant memory. The Irish were still hostile to their British "occupiers" during her childhood, and she remembers sending lost British tourists in wrong directions as a form of silent protest.
Shelagh came to Israel in early adulthood and settled in Jerusalem with her husband Baruch, raising two children. Now, she and Baruch serve the community as dharma teachers in the Plum Village tradition, leading days of mindfulness and weekly sangha meetings. She is active in Women Wage Peace, a grassroots organization focused on a two-state solution, regularly picketing at busy Jerusalem intersections to discuss peace. Shelagh crosses political and social barriers to invite peace dialogue. Along with Baruch, she is a beacon of light and pillar of support for my work here.
---
I am deeply moved by the lives of these women: the scope and breadth of their impact, the humility and kindness in their souls. Shelley trained thousands of women in non-violent communication and drew focus to gender in peace activism work. Dung maintained focus on peacebuilding and social work in the midst of the destruction of her homeland. Shelagh continues to work daily for peace in Israel. How did they do it? How do they continue?
These women are my peace heroes. They are tall trees in whose shadows I walk, against whose trunks I take refuge, and on whose branches I climb and open to the world. I am one of their descendants on this path. We inspire and encourage each other. My story provides new energy to the causes for which they've dedicated their lives. Their stories inspire me to imagine bigger, celebrate, and to keep working for love.
In their names, I vow to turn towards the suffering of the world. I vow to cultivate peace in my own heart. I vow to celebrate the little victories — a man taking his first deep breath, a young woman learning to code — and to let joy strengthen my spirit and willingness to persist. I vow to let their stories nourish and inspire me for the road ahead, and to keep walking the path of peace.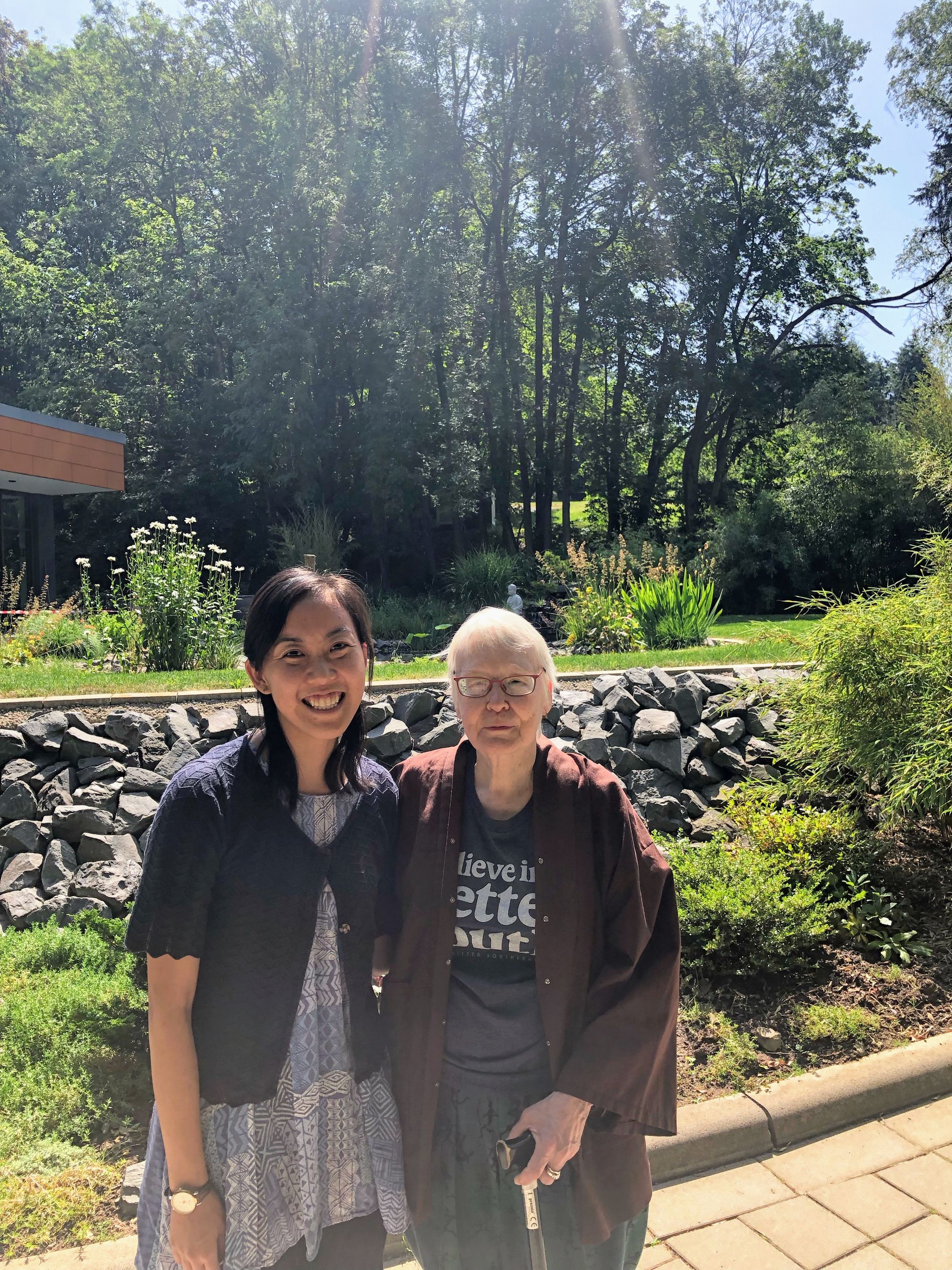 Aspiring to the Order of Interbeing
I am happy to report that my teacher Joann Rosen has formally accepted me as an aspirant to the Order of Interbeing, Thich Nhat Hanh's practice community dedicated to mindfulness, ethical behavior, and compassion in action. This is a step towards becoming a dharma teacher in Thay's tradition (keeping in mind that steps are not always linear or guarantees of progress).
Shelagh and Baruch Shalev from Jerusalem will be supervising my practice in Israel and Palestine, with Joann providing mentorship from the United States. I've written a letter to Thay sharing my aspiration: you can read it here.
Reporting from London on my startup work
In other news, I just returned from London and three days of nonstop collaboration with my startup client, Carefree. Carefree is a charity organization that provides unused accommodation inventory (hotel rooms and cottages) for free to unpaid caregivers, which gives these caregivers the opportunity to take breaks for respite and mental health.
I was particularly inspired by the vision of the team's managing director, Charlotte. She imagines a future for social good that unites business interests with social ones, where industry provides unused assets to those in need because it is economically viable, and where we as consumers make choices driven by the common understanding that we too may grow old or require care, or become caregivers ourselves.
It is a vision that truly puts into practice the nature of interbeing.
Celebrating the first Coding Academy graduation
Thirteen students from my first coding program officially graduated on June 18, 2019. We organized a grand ceremony at Palestine Ahliya University, which offered all students a certificate of completion for sixty hours of Web Development. It was a joyful celebration for students, parents, and this teacher (me) alike.
We partnered with three organizations to get our program off of the ground: Palestine Ahliya University, Jerusalem School Bethlehem (JSB), and Middle East Entrepreneurs of Tomorrow (MEET). Asma at the university organized our certificates and hosted us on occasion, Mr. Josh at JSB gave us access to a classroom with quick WiFi, and Mustafa and Abed at MEET loaned us ten laptops.
In this program, I've learned to foster collaboration between organizations, to establish support systems (hiring a wonderful teaching assistant Mahd in the process), and to take each day as it comes. Each class required patience, flexibility, and humor: rearranging the schedule when the power went out or WiFi dropped, starting class late because students were hungry and stopped at Zuwadeh. It was with great joy and a sigh of relief that I called each student's name at graduation a few weeks ago.
My focus is shifting to build sustainability and growth into the program. Can it exist without my expertise and financial investment? Can it survive if graduating students contribute their time and energy to future classes? These are questions that I will examine more deeply in my next coding academy, which begins this upcoming Monday at Dheisheh Camp in partnership with the organization Shoruq.