Reflecting on the past few weeks in Palestine and Israel
There is nowhere to go, nothing to do. Today is a lazy day in Jerusalem and I am on day 10 of quarantine. My body is tired (and sick) after wanderings across three continents, always walking towards something: a friend's wedding, Thay's root temple, holidays with family, work, a social entrepreneurship conference, my coach in Vienna. I have a runny nose and fluctuating temperature.
This quarantine is an invitation to stop running.
Outside there is news of a global epidemic. The virus has spread to my home of California, Leo's home of Austria, even to seven Palestinians in Beit Jala. Bethlehem is a ghost town. There are blockades every few kilometers, shops are abandoned, even the Church of the Nativity is rejecting visitors. No traffic is allowed in or out of the city. Grocery stores and pharmacies are closed or have run out of supplies. The border between Jerusalem and the West Bank is shut.
I do not know when I will be allowed back into Palestine, or how I will be received when I return. In my Asian-looking body, I am now perceived as an object of fear, met with exclusion or outright racism. I was not allowed onto the bus from Bethlehem to Jerusalem a few Mondays ago, forced to cross by foot at Checkpoint 300 through a maze of gates, screenings, and walls.
The Israeli soldier only let me in when he saw my blue American passport. Israel has since denied entry to visitors from 5-10 more hotspot countries across Europe and Asia, and is requiring everyone else to self-quarantine for two weeks upon entry. Fear and the desire to protect one's own people has manifested in collective constriction, supporting hyper-local, nationalist tendencies to be with others that feel safe.
Three weeks ago, I landed in Israel, tired but triumphant. I gathered my bundle of belongings, dropped into my friend David's spare bedroom, and slept for ten or fourteen hours straight. When I woke the next day, I leapt across the border to Bethlehem to see my cofounder Anas. We were joyful to be reunited after months of separation and remote collaboration. We sat in the rolling hills of Al-Markhour, the steppes of the valley below revealing spring in its unfolding. Tiny pink blossoms, budding on the once barren branches. A hillside of possibility. We hiked into the valley, practicing walking meditation. Aware of our steps, the joy of togetherness, the work that was to come. All there in the present moment. It was February 28, my mother's 59th birthday.
Two days later (Sunday), I landed at my new house in Bethlehem. There was a giant puddle of water on the kitchen floor, no washing machine, lights without working light bulbs, no central heating. It was home. My Palestinian friend Orjwan planned to move in the following Friday. She listed her favorite Algerian and Palestinian dishes and assured me that she'd get the recipes from her mother.
I had been dreaming of this place for months, and I soaked in the color and energy of my adopted city: the calls of muzzein five times per day, the abundance of falafel, the smiles of the people. In my house, I gently set up my meditation bowls, sitting cushion, artwork, and desk.
Later that day, I jumped into a service (shared taxi) on my way to Hebron to meet my team of curriculum developers in person for the very first time. I marveled at seeing Rawan, Mays, and Yousef in person: the spark and flow of ideas, the intimacy and ease of collaboration. I couldn't imagine myself anywhere else: this tiny coworking space with the lingering smells of cigarette smoke and Arabic coffee...this was it.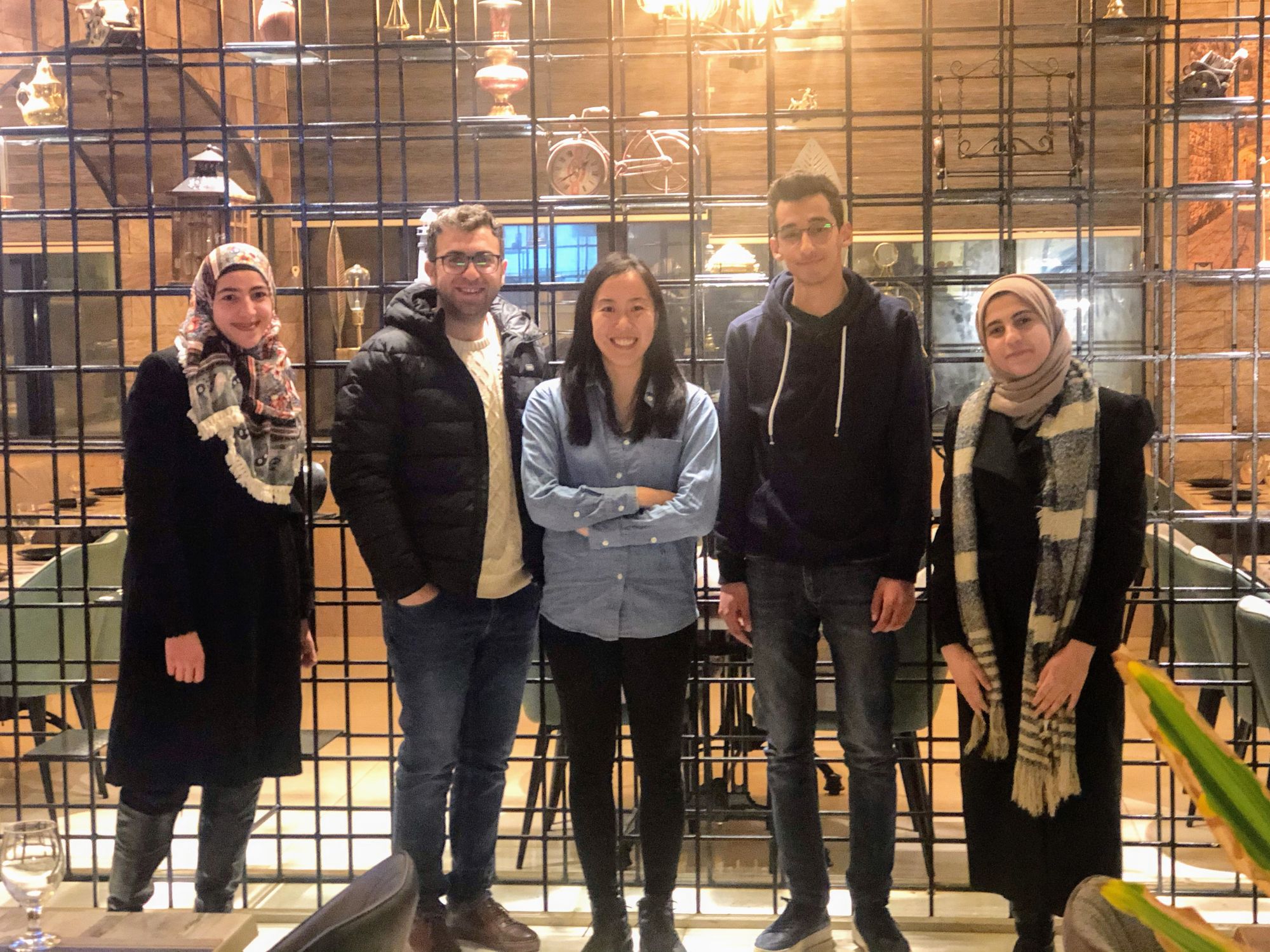 The next day, Monday, March 2, I managed the process of fixing up my new house. Workers trooped in and out. I helped one of them fix my sink. I bought an external monitor for my computer, and a heater at my friend Amjad's store. My hands were full, so I promised Amjad I would come back the next day to pick it up.
On Monday evening, I had promised to meet my dear friend Chen back in Jerusalem for a cup of tea at our favorite cafe. I hurried from my home repairs towards the bus stop to Jerusalem. As I approached, wheeling my empty suitcase, Arab men started shaking their fingers and heads at me.
When I arrived, a man claiming to be a bus driver told me that I wouldn't be allowed to board.
Why, I asked.
Because of the way you look, he said.
I'm an American, I told him, realizing that he thought I was of Asian origin.
It does not matter, he said, walking away.
When the bus arrived, I tried to board, but the driver wouldn't let me on.
I'm an American, I argued.
I just did this route yesterday.
It's the Israelis, the driver said. Not us. Go to Checkpoint 300, you can cross there.
I was in a state of shock. I couldn't tell if this was racism or a decree from the Israeli government or both. A kind Palestinian girl offered to accompany me to the checkpoint. In my year of living in Bethlehem, I had never crossed into Jerusalem from Checkpoint 300, opting instead for Arab bus 231, which routes through the "tunnels" checkpoint and doesn't subject travelers to such strict scrutiny. Palestinians with green cards (residency cards for the West Bank) cannot take the bus; Checkpoint 300 is their only option. I am afraid of the looming cement walls, the surveillance, the way that the turnstiles lock every two feet, trapping people like animals in metal cages.
The checkpoint was empty. The girl and I hurried along, me with my empty suitcase, her with ease and familiarity. When I arrived at the final gate, I handed my passport to the security guard and he waved me through. I breathed a sigh of relief.
Did you hear what the guards said? She asked.
No, I don't speak Hebrew.
The second guard asked the first one why he had let you through.
We're not supposed to let "them" through, he said.
She's American, the first one said. And that was that.
I was spooked and shaken by this story. Israel was not denying entry to Americans, this I knew, but I couldn't shake my fear that a border guard would see my Asian body and refuse to let me through, regardless of my American passport. Sometimes, the seeds of fear and confusion win out over rational thought.
I decided to wait to cross back to Palestine until I received my one-year visa. In case the borders shut to foreigners, I wanted the security of Israeli residency to guarantee my return to Jerusalem. It was, in hindsight, a good call.
Four days later, on Friday, March 6, authorities discovered that Greek tourists with coronavirus had stayed at a hotel in Beit Jala, Bethlehem's sister city just a few blocks from my new house. Seven, then 16, Palestinians were found to have contracted the virus. Israel shut its borders completely.
No tourists were being allowed in, in fact, mobs of Palestinian young people were forcibly evicting the ones already there. I believed the stories of violence, remembering my own run-ins with Arabs in the city.
Corona, corona, boys chanted to me as I walked down the street.
Service drivers refused to give me a ride from Hebron to Bethlehem.
This Bethlehem was one I didn't recognize, one I didn't even feel safe in. Gone was the hospitality and kindness of so many strangers that made me fall in love with the city. In its place was fear, manifesting as racism and confusion. Today, Bethlehem is under lockdown, its borders patrolled by both Palestinian police and Israeli soldiers. I do not want to return.
Across the border, I am in Jerusalem in a cozy house on day 10 of my home quarantine. I'm enjoying the freedom and space of an open schedule, the quiet ease of an afternoon nap. I started taking a class on writing by Malcolm Gladwell on Masterclass, I watched Marriage Story and Wall-E, and am coding the prototypes for some new web products. I am connecting with friends all over the world in virtual hangouts and meditations, I even saw my family a few days ago.
Quarantine has become retreat: restful, lazy, alive.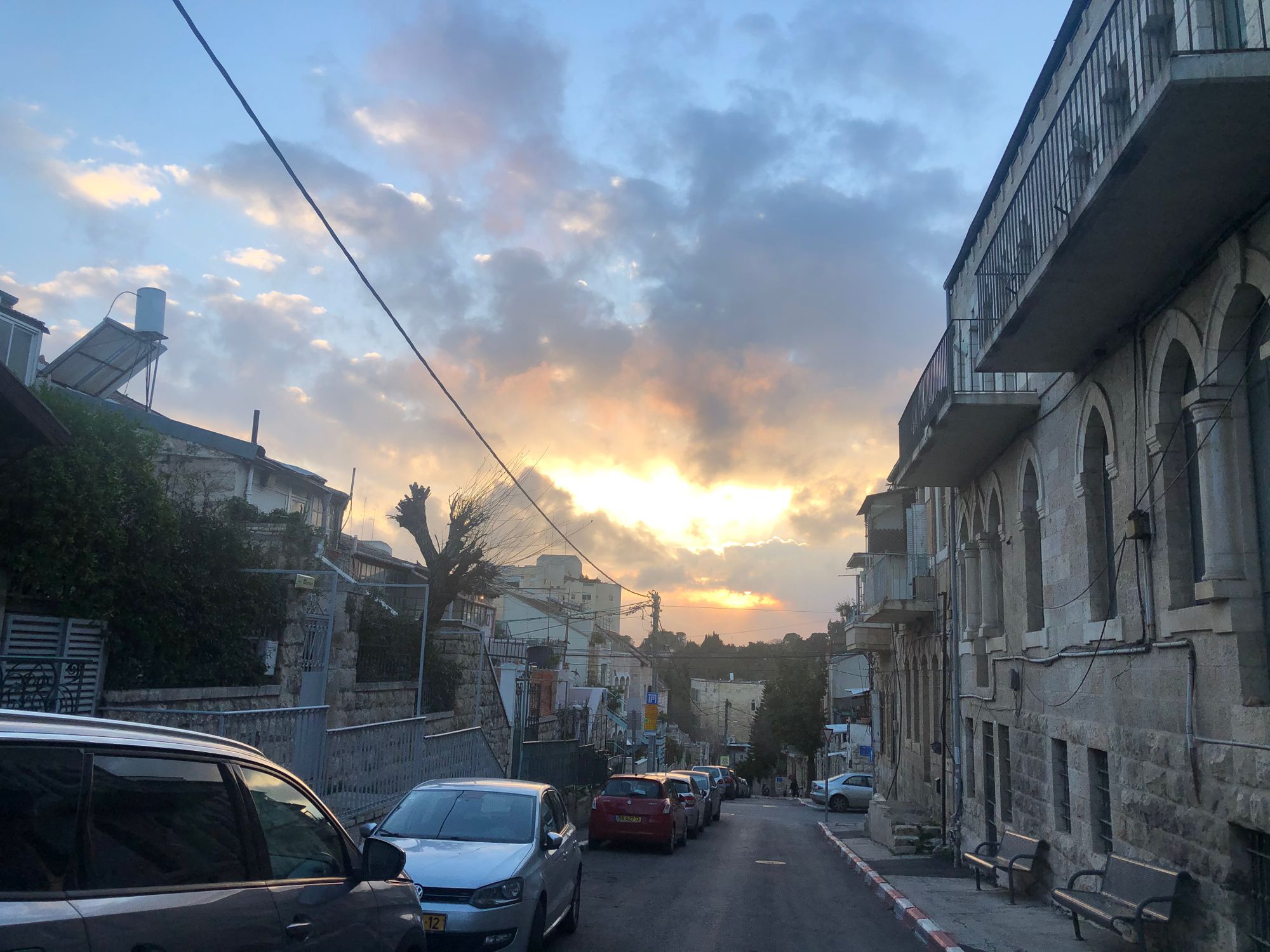 Yesterday morning, I played one of my teacher's favorite songs, May I Suggest by Red Molly.
May I suggest
May I suggest to you
May I suggest this is the best part of your life?
I have a runny nose, congestion, and fluctuating temperature, I'm in quarantine-retreat from friends and family, separated by an ocean from my family in California, and by a border from my things in Bethlehem and my team in Hebron.
Can I say yes to the invitation that this is the best part of my life?
Surprisingly the answer comes quickly and brings tears to my eyes.
Yes! I'm in a warm home with a comfortable bed, munching on lasagna from Shelagh and Baruch. I have the tools to care for my body, I have the courage to follow my heart. I take refuge in the practice and Thay's teachings on interbeing. I know that I am not alone, and that people love me and care for me.
What else is necessary to be happy? What else is necessary to make this moment the best part of my life?
There is no solid ground on which to stand. Nothing in the future is certain. I am not invincible, or even guaranteed entry into the United States upon arrival. This is it.
Can I transform this quarantine into a much-needed retreat, my sickness into a meditation on the impermanent nature of my physical body? Can the challenges of life become obstacles on the playground: the racism and confusion in Palestine, the monkey bars; the uncertainty about my visa, the jungle gym?
In the face of this difficulty, I want to tread lightly.
I want to invite in the deepest sources of my joy, wonder, and creativity.
I want to play and to delight in the moving clouds in the sky.
This moment is a happy moment.
Five Remembrances
I am of the nature to get sick. There is no way to escape sickness.
I am of the nature to grow old. There is no way to escape aging.
I am of the nature to die. There is no way to escape death.
All that is dear to me and everyone I love are of the nature to change. There is no way to escape being separated from them.
My actions are my only true belongings. I cannot escape the consequences and fruits of my actions. They are the ground upon which I stand.